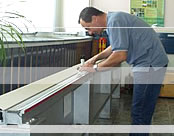 Mostostal's laboratory is managed by the Quality Control Department.
The laboratory staff have grade II and III certification for conducting tests according to PN-EN 473:2000 issued by TÜV Rheinland, PTBN, and GL.
We have also put into operation a Quality Assurance System in compliance with the requirements of standard PN-EN ISO/IEC 17025.
Our laboratory has been approved by the Polish Ship Registry and DNV for non-destructive and destructive testing.
Thanks to our qualified and creative staff we have developed a wide range of services backed up by expertise and experience in the field of non-destructive and destructive testing.
The high quality and reliability of our services and comprehensive client service have earned us a leading position in the market for NDT testing.
THE DESTRUCTIVE TESTING SECTION
Static stretching and bending tests for welds
Impact resistance tests
Gauging of hardness by the Rockwell, Brinell, and Vickers methods
Macroscopic weld examination

THE NON-DESTRUCTIVE TESTING SECTION
Ultrasonic gauging of thickness
Radiographic weld testing
Ultrasonic testing of metallurgical products and welds
Magnetic particle measurements
Penetration measurements
Seal evaluation
Visual measurements (inspection)

THE LENGTH AND ANGLE MEASURING SECTION
Verification of measuring instruments is in accordance with the requirements of ISO quality system regulations.