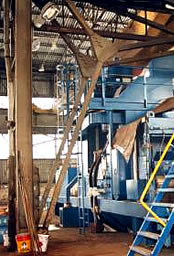 We provide the following cleaning services:
Preliminary cleaning of beams and plates with Schlick equipment to cleanliness grades SA1, SA2, and SA2.5 according to ISO 8501-1 (we can also apply temporary protective paint after preliminary cleaning);

Final cleaning of steel constructions after welding to cleanliness grades SA2, SA2.5 or SA3 according to ISO 8501-1.

Hydrodynamic painting with high zinc content paint, ethyl silicate coating, or epoxide or polyutherane paints,
High-build painting systems.
We provide painting services based on the protection systems stipulated in PN-EN 1244-2 and 12944-5 and other standards e.g. NORSOK M 501.
We also carry out painting of steel constructions after cleaning, galvanizing and metallization.
Depending on requirements and the type of paints used we apply a paint coating of a few dozen to a few hundred microns in thickness.
We also carry out spray metallization e.g. for bridge constructions.