The history of the company began in July 1973, when Mostostal Chojnice was officially opened, a new state enterprise which was to employ almost 1500 skilled workers from all over Poland.

In its first year Mostostal mainly manufactured steel constructions for building projects in Poland and former Eastern Bloc countries.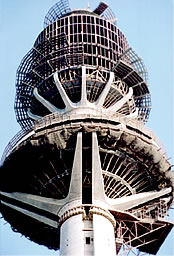 Since then we have come a long way, from transformation of the company into a joint stock company in 1992 to joining the Mostostal Zabrze Holding SA Capital Group in 1997, and finally joining the KEM Group in April 2003.

Over a period of over 30 years Mostostal Chojnice has manufactured more than 600,000 tonnes of steel constructions.

Our 25,000 square metres of indoor production space and monthly production capacity of 1,500-1,800 tonnes makes us one of the largest steel manufacturers in Poland. Our production plant manufactures steel elements with maximum dimensions of:
5.5 m width x 4 m height x 40 m length, weighing around 50 tonnes. However, we can also assemble oversized elements on quays in Gdańsk and Szczecin, if necessary.

Mostostal's numerous licenses, authorisations and certificates, modern machine park, and highly-qualified workforce are attracting more and more clients with even greater expectations regarding the quality of our products and services. We are prepared organizationally to perform the steel construction according to the EEMUA, BRO, BSK norms.

Due to a recent surge in output and a steady stream of orders we are able to continually develop and invest in our production facilities thus allowing Mostostal to look to the future with optimism.