The quality of the constructions manufactured by Mostostal Chojnice S.A. attests to the skill and professionalism of our workforce. Manufactured according to global standards they are used all over the world e.g. Egypt, the USA, the Dominican Republic, Cyprus, Norway, Sweden, Denmark, the UK, France, Austria, Russia, Germany and Italy. Approximately 80% of our production is exported.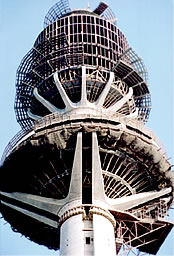 In order to meet the requirements of our present and future clients we are currently modernising our production facilities to ensure the highest possible technical standards.
Mostostal Chojnice S.A. is highly-regarded in the global market in steel constructions thanks to our involvement in prestigious construction projects with a high degree of technical complexity involving complex processing.

Our greatest asset is our highly-skilled and experienced workforce. When responding to orders we go to great lengths to ensure that our products are of the highest quality and therefore attach great importance to recruiting highly-qualified and experienced personnel.

Mostostal's main objective is to continue consolidating its reputation among its present and future partners.