Mostostal Chojnice S.A. is a leading Polish manufacturer and assembler of welded and bolted steel elements both in Poland and abroad.
In its early years Mostostal was mainly a manufacturer of steel constructions for halls, public buildings and industrial facilities.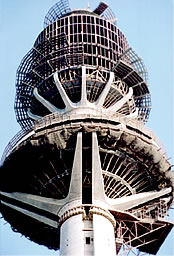 We are now specialised in the production of steel constructions for bridges, viaducts, walkways, pipe constructions, towers, masts, overhead travelling cranes.
Mostostal is also a major European manufacturer of equipment for the shipbuilding industry e.g. hatch covers (external and internal, sliding and swinging), vessel coamings, port gates, hull sections, turbines for hydroelectric power stations, steel elements for wind power stations, ro-ro ramps, stern, car and container ramps, container guides and handlers, constructions for harbour and cargo handling cranes, oil and gas rigs, dry dock and cargo handling pier constructions. We have been operating in this area for almost 15 years.
For five years, since we signed our first contract to supply steel constructions for drilling platforms on the Norwegian continental shelf, we have been permanently present in the demanding off-shore industry.
Because of our involvement in the industry we have had to raise our manufacturing standards and obtain quality and acceptance certification. This led to Mostostal being granted a TÜV Rheinland certificate in compliance with ISO 9001 in 2003.